3 Tips to Refinance Your Home
Wednesday, June 24, 2015
3 Tips to Refinance Your Home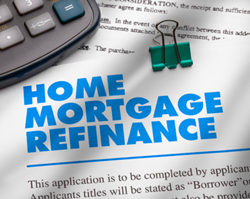 Thinking about refinancing your home this summer but not sure if the timing is right or how to go about it? You're in luck because now is a great time to refinance! Interest rates are still at historic lows despite an increase over the last few weeks. In fact, the average rate for a 30-year, fixed-rate mortgage was 3.87 percent in the last week, and the average rate for a 15-year mortgage was 3.11 percent, according to the Freddie Mac weekly mortgage rate survey. So if you're currently paying an interest rate of more than five percent, now may be the best time to refinance your mortgage. Here are 3 tips to refinance your home.
1.) Calculate your savings: Before you refinance your home mortgage, you have to determine whether or not it will save you money. It's best to calculate whether a new home loan will save you money based on the time left to pay off your old loan and whether or not you'll have lower more manageable monthly payments.
2.) Perfect your credit: Your credit score plays a huge part in determining what rate you get on your new loan. Before you even apply for refinancing, get a free copy of your credit report and confirm there are no errors that could prevent you from getting the lowest rate possible. Any discrepancies should be addressed as soon as possible before applying and be sure they've been cleared up before moving forward.
3.) Be prepared: Refinancing your mortgage requires a of paperwork. Not as much as what you needed to originally qualify for your home, but quite a bit more than you'd expect. So be prepared. Gather your essential documents such as proof of income, tax returns, bank statements and more and keep them all organized together or scanned in a safe online folder. Missing documents will only slow down the refinancing process so the more organized you are the better.
Have questions about refinancing your home or looking to sell your Arizona home? Call the Russo Team today for a complimentary assessment of your home's current value. Our expectation is to make the real estate experience the best it can be for you! – Frank
www.RussoTeam.com
602-864-1200
Search the MLS Now!
Join us on Facebook and Twitter
*This communication is provided to you for informational purposes only and should not be relied upon by you. RE/MAX Professionals is not a mortgage lender and so you should contact a mortgage company directly to learn more about its mortgage products and your eligibility for such products.