Top 3 New Year's Resolutions for 2014 (and how to stick to them!)
Thursday, January 02, 2014
Top 3 New Year's Resolutions for 2014 (and how to stick to them!)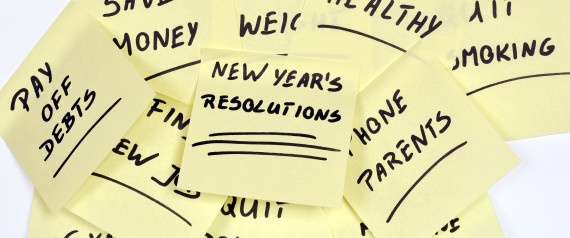 2014 is finally here and you may be wondering, "What are New Year's resolutions really about anyway?" Making a resolution is about making a personal promise to yourself to find a solution to a reoccurring problem in your life, hence the name "re-solution." It's all about improving and making your life better. Many of us find ourselves re-listing the same resolutions every year. Here are the top 3 New Year's resolutions for 2014 and how to stick to them.
1.) Lose Weight: With two-thirds of Americans being obese or overweight, it's no surprise that losing weight is one of the top New Year's resolutions. But if you've made this resolution time and time again only to see it make the top of your list again, you're not alone.
How to Stick to It: Set a specific, small, achievable goal and then work toward building on that as time goes on. Instead of saying," I want to lose 30lbs this year", try, "I want to lose at least 2lbs a week for 3 months." So how do you stick to it? Nothing motivates like competition. Try starting a healthy weight loss competition with your friends or coworkers with the prize being a pool of money or a spa day. Make a commitment to a weekly walking club, or sign up for a subscription to a weekly farmers market or fresh fruit and veggie delivery service.
2.) Digitally Unplug: In this digital age, it can be hard to let go of that smart phone or tablet for more than a few minutes, especially if you got a shiny new screen for Christmas. But if you feel the need to capture every moment with a picture to share online or think you're having more conversations with your phone than actual human beings, it may be time to take a break.
How to Stick to It: Start small. You can start with a digital detox maybe one evening a week, then maybe for the weekend, and so on and so on. It helps if you can remove social networking apps from your phone, turn off your Wi-Fi (AND your phone), or lock your devices up so you're not tempted to check work emails or post your latest "selfie." Wondering what to do with your digital downtime? Catch up on a good book, take a walk, have a picnic with your kids, meet a friend for coffee…the possibilities are endless.
3.) Try Something New: Self-improvement is not a new concept, but it is often a difficult resolution to keep for some. Whether you're looking to get more out of life or just add some new experiences, trying something new is a great way to enrich your day.
How to Stick to It: Make a list of some things you are interested in trying, and them make an honest commitment to carve out some time in your busy day to do it. Take a watercolor paint class, join a hiking club, learn to play the guitar, or do something as simple as trying a new restaurant once a month. Find things to do that are nearby and within your price range so you aren't deterred by distance or cost. Assembling a friend or family members to join you is an added bonus, because they can keep you on track and help you stay motivated.
If buying or selling your home is on your New Year's resolutions list, please contact The Russo Team today, and let us help you make your goals. We hope your new year is full of prosperity and joy!
www.RussoTeam.com
602-864-1200